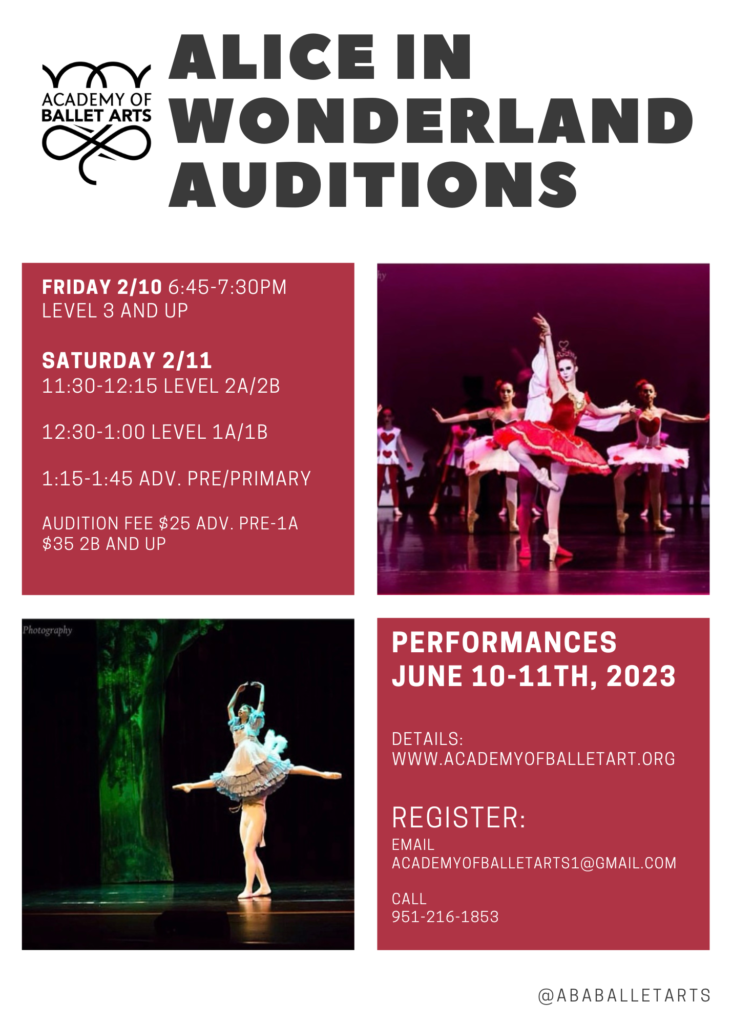 Auditions February 10-11th, 2023
Audition Details:
Auditions are open to ALL dancers in the community, ABA students and beyond!
Audition Dates and Times:
Friday 2/10 6:45-7:30pm Level 3-6
*Ladies please wear pointe shoes!*
Saturday 2/11
11:30am-12:15pm Level 2A/2B*
12:30-1:00pm Level 1A/1B
1:15-1:45pm Adv. Pre/Primary
*Ladies please wear pointe shoes if on pointe*
Audition fee $25 Adv. Pre, Primary, 1A, 1B
$35 Level 2B and up
*Pre Ballet level dancers do not need to audition. If you would like to participate in the performance please sign up at the front desk or via email no later than Saturday 2/11 and we will send out information to confirm participation after auditions are complete.*
NOTE: If you are not able to attend auditions on the audition date, please contact the front desk ASAP to schedule a makeup audition in class.
Makeup auditions must be scheduled prior to auditions ONLY. Late auditions will NOT be considered for casting. NO EXCEPTIONS!!